Rankings and Recognition
The extraordinary benefits and incredible value of a Marquette University High School education has been recognized regionally and even nationally. Here is a just a sampling of some of our recent recognition.

2021 National Blue Ribbon School
Marquette University High School is among an elite group of 23 private schools in the United States and the only Wisconsin high school recognized as a 2021 National Blue Ribbon School by the U.S. Department of Education.
This is the highest honor given by the U.S. Department of Education. MUHS is honored in the Exemplary High Performing category for academic performance.
The coveted National Blue Ribbon Schools award affirms the hard work of educators, families, and communities in creating safe and welcoming schools where students master challenging and engaging content.
Top 10% of ACT Test-takers in the Nation
The Marquette High Class of 2018 scored among the top 10% of ACT test takers in the nation. The average composite for MUHS is 27.8, compared to a state average of 20.5.
74% of MUHS students exceeded the benchmark score on all subject-area tests (English, Math, Social Science, and Science), demonstrating mastery in College and Career Readiness Standards (CCRS). Only 25% of the class statewide reached this threshold.
98% of MUHS students performed at a level exceeding CCRS English/ Language Arts benchmarks, compared to 56% in the state.
65% exceeded CCRS standards in STEM, compared to 19% in the state.
Top Rated School in Wisconsin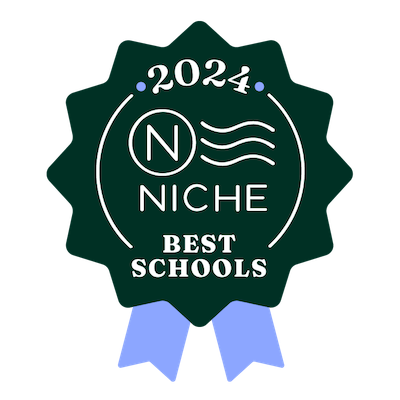 Niche.com ranked Marquette University High School as the No. 1 all-boys high school in Wisconsin and the No. 1 Catholic high school in the Milwaukee area.
A+ Overall Niche Grade
A+ Academics
A Teachers
A+ Clubs and Activities
A+ College Prep
A+ Sports
Here are excerpts from some of the reviews:
"MUHS creates a community that encourages boys to mentor each other, give back to their community, and truly consider their purpose all while maintaining rigorous academic standards and providing ample opportunities for leadership in sports and clubs."
"Excellent High School. My son loved the school. Faculty and staff very helpful and Mr. Monday is the best principal. He truly cares for the students."
"Great teachers, great athletics and clubs, student body is very kind and helpful. Teachers are always willing to give individual help, and truly care about their students."
"I have just finished my Junior year at MUHS, so my next few words should carry some weight. Academically, this school has pushed me past every single limit I thought I had. At many points throughout the year, I was taken out of my comfort zone and as a result was able to learn more about myself and my abilities. The exact same can be said for our athletics at every level. Socially, you will find a welcoming and strong brotherhood. In fact, that was the deciding factor for me when I was deciding which I high school I would attend. I shadowed and realized how valuable and unique this community was. As I move on to my final year at MUHS, I can proudly say this school and faculty have more than prepared me for college and has given me connections with friends that will remain lifelong."
Read more about the ratings and rankings at Niche.com.
Significantly Exceeds Expectations -- Wisconsin Department of Public Instruction
DPI reports that Marquette High has earned the highest school rating of "Significantly Exceeds Expectations" for the past three years.
DPI issues a school performance report card based on student achievement and post-secondary preparedness. The MUHS Report for 2018 shows a score of 90.7, one of the highest in the state.
Top Boys Athletics Program in Wisconsin -- Milwaukee Journal Sentinel
Marquette High was rated the top boys athletic program in Wisconsin in 2015, 2016, 2018, and 2019.
Best High School for Sports in Wisconsin -- Stadium Talk
Stadium Talk is an independent sports media website that analyzes athletic achievements for teams, schools, and individual athletes across the country.
Through an analysis of all high schools in the country, Marquette High was rated as the best school for sports in Wisconsin.