Dear Parents and Guardians,
Homecoming greetings to you! The theme days, activities, all-school Mass, Alumni Awards ceremony, pep assembly, and athletic contests of this week have allowed our community to celebrate the tradition and pride of Marquette University High School. Earlier today we were inspired by the chorus as they led our community in liturgical music and by our seniors who led by example at Mass.
This week we also completed the Drug and Alcohol sessions for freshmen and their parents. In these sessions we shared school data indicating drug and alcohol use and related attitudes among students. While we are pleased the data points to lower usage levels among our students compared to national averages, there is room for growth to further educate and support our students in abstaining from drugs and alcohol and other at-risk behaviors. The partnership between home and school is critical in forming students who act with integrity and REPRESENT themselves as men of character.
The vibrancy of student life at MUHS continues during the month of October through the many co-curricular and pastoral activities. Later in the month, we will also host our annual Open House for prospective students and families. If you know of a family who you think would make a good addition to our school community and mission of forming men for others, please extend an invitation to register for the MUHS Open House on Sunday, Oct. 23. You are also welcome to take an Open House yard sign to display at your home.
Have a great October and Go Hilltoppers!
AMDG,
Mr. Jeff Monday

Principal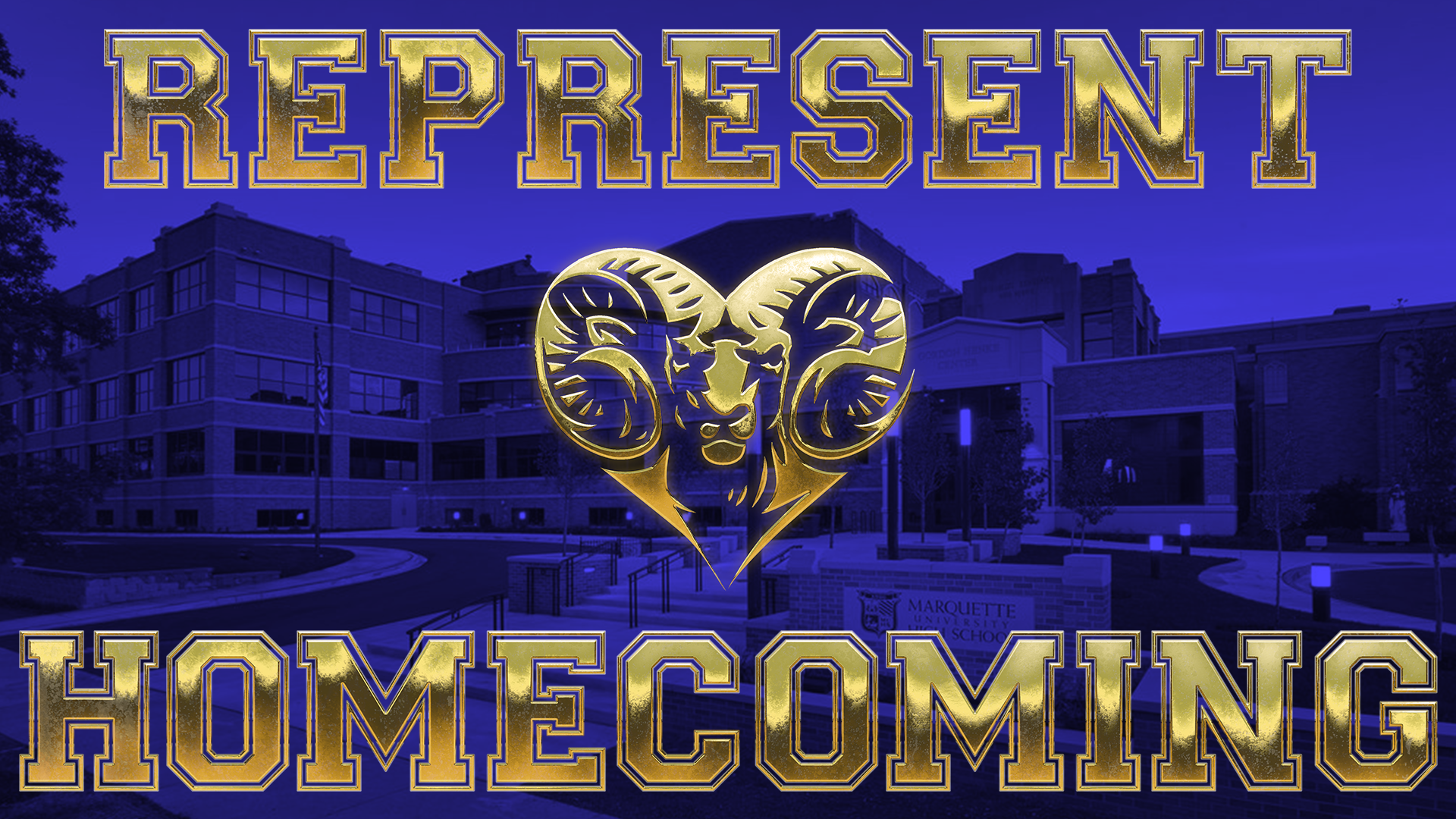 Seeking Parent Volunteers for Open House
We are seeking parents to join faculty, staff and administrators on Sunday, Oct. 23. Help us provide the warmest of welcomes and the most relevant information to prospective students and parents who will visit us at Open House from 10 a.m. - 1 p.m. (Mass will take place at 9 a.m.) We need parents to help us tell the amazing MUHS story and help us make our guests feel right at home. If you would like to volunteer, please complete the volunteer registration form by Wednesday, Oct. 12. We have several shift options. You can sign up yourself and your spouse, too. Any questions, contact Mrs. JoAnn Cekanor at cekanor@muhs.edu. A reminder with your volunteer assignment will be emailed to you the week of Oct. 17
Dual Credit Registration Deadline Sept. 30
SLU's 1818 program deadline for dual credit registration is Sept. 30. Students have received the instructions for registration in an email from Ms. Fran Maloney. A recording of the Sept. 7 virtual meeting was emailed to parents who were unable to attend: Dual Credit Parent Information
Found Man's Ring
A man's ring was found in school on Wednesday, Aug. 31, at the Parent Night. We would like to see it returned to its rightful owner but as of now, we have not had any inquiries for a lost ring. If you are missing one or have heard of someone missing a man's ring, please contact Security Director Mike Dubis at (414) 937-8581 or dubis@muhs.edu.
Father/Son Golf Outing Registration Available for 9-Hole Event
The annual Father/Son Golf Outing will be held Sunday, Oct. 9, at Ironwood Golf Course, Sussex. While the event is sold out for the 18-Hole event, nine spots remain for the 9-Hole event. RSVP by 11 p.m. Friday, Sept. 30. Activities begin at 10:30 a.m. with a shotgun start at 12:15 p.m. Students can play with any adult. All golfers are welcome regardless of skill level. Event Flyer Registration
Community Service Program for Sophomores and Juniors
Last week all sophomores and juniors received information about the MUHS Community Service Program for the 2022-2023 academic year. Students downloaded MobileServe, our service tracking app, and were shown how to look up volunteer opportunities and record their volunteer service hours using the app. Sophomores and juniors are required to complete 24 hours of service during the academic year. Service opportunities are posted on the MobileServe platform. Signing up for service events is easy - ask your son to show you how. For questions about the service requirement, please contact the Campus Ministry Office. Community Service Program Handbook
Swim and Dive Team Pre-Season Meeting Oct. 6
A pre-season Zoom meeting will be held at 7 p.m. Oct. 6 for all new and returning athletes and parents. Any new members interested in the swim or dive team should email Mr. Paul Fleisch at fleisch@muhs.edu with questions. He will send information to students on the pre-season meeting and add them to the team contact list. The season starts Nov. 14 and goes to mid-February. It is a non-cut sport, but swimmers must be able to safely swim laps in a 25 yard pool. Divers with no experience are welcome. Zoom Link: https://us06web.zoom.us/j/8074084064
Alpine Ski Racers Information Meeting for Students Oct. 4
Students interested in racing for the Hilltoppers this winter season should plan to attend an information meeting during homeroom on Tuesday, Oct. 4, in the gym. Students must attend so that the Athletic department can collect all sign-up information. In addition, students and parents should make sure all athletic forms are complete with a valid physical. Students will not be allowed to participate without updated eligibility information on file. More information about required forms can be found here: https://www.muhs.edu/athletics/forms
Saturdays with Ignatius Oct. 8
The monthly series for Marquette High parents and alumni will take place on Oct. 8 from 9 a.m. - 10 a.m. in the Three Holy Companions Chapel. The Mass will begin at 9 a.m. and Fr. Doug Leonhardt, S.J. will give a presentation for the homily: "Mary Magdalene and her Relationship with Jesus-- what he did for her and the same he offers us." Following the presentation, there will be short time for reflection. The Mass will continue and be finished by 10 a.m.
Science Olympiad Parent Information Meeting Oct. 11
There will be a parents meeting for all new and returning members of the Science Olympiad team on Oct. 11 at 7 p.m. in Presidents Hall. This meeting will go through the logistics of the season and give parents a chance to learn more about this nationally-ranked team. If you cannot make it or have questions please contact Coach Williams at williams@muhs.edu. Science Olympiad Team Webpage
Building Bridges Meeting Oct. 11
On Tuesday, Oct. 11, MUHS will be holding the first Building Bridges meeting of the year from 6:30 p.m. - 8 p.m. in the Cannon Commons. All are welcomed for this evening of food and fellowship. RSVP to Mr. Adrian Gardner (click here for RSVP Form) by Friday, Oct. 7. Building Bridges is a resource support group geared towards our African American families.
PSAT/NMSQT In Person Testing Oct. 12
The PSAT/NMSQT will be held on Wednesday, Oct. 12, for sophomores and juniors. The test will be administered at school in paper-and-pencil format, and standard testing time takes approximately four hours. For students with accommodations, it may take up to five and a half hours. On that day, sophomores and juniors should arrive at school and be in their assigned testing rooms no later than 7:50 a.m. Information regarding testing room assignments/timing codes will be shared with students via their school email account.
Freshman Cup Oct. 12
The faculty and staff are working to enhance the freshman year experience through an initiative to create academic, social and outside-of-curriculum learning opportunities. Part of this initiative is the fourth annual "Freshman Cup" being held 8:15 a.m. - noon on Wednesday, Oct. 12. This will be a morning for the freshmen to step back from academic rigor and simply have fun with each other. There will be various competitions like dodgeball on Takton Field, Mario Kart in the classrooms and a school-wide scavenger hunt. The morning will culminate with freshmen and their big brothers receiving vouchers for a food truck lunch. Important information for the day:
Students should arrive at 8:15 a.m. and will be done at noon. However, Cannon Commons will be open if they carpool with sophomores or juniors taking the PSAT.

Students should wear either MUHS spirit wear or a uniform that will be planned in their PAY groups.

Students will receive a voucher for the food truck lunch. Water and lemonade will be provided.

Students will be allowed to use their phones during the morning.

Sophomores and juniors are invited to purchase lunch at the food trucks after their test is over.

Questions? Contact Paul Fleisch - fleisch@muhs.edu
Class of 2023 - Diploma Information Needed by Oct. 14
Students in the Class of 2023 will be emailed a form on Monday, Oct. 3, that needs to be completed by Oct. 14. Seniors are able to indicate how they would like their name printed on their diplomas. They have been asked to discuss this with you prior to completing the form. Most students either choose their full name (first, middle and last names) or (first, middle initial and last name): William John Smith or William J. Smith. They have been reminded to:
Double check the spelling before they submit the form

Include hyphens, apostrophes and additional last names, if applicable

Include legal first and last names at a minimum
The form also has space to indicate any legacy information. If a student's father, grandfather, great-grandfather attended MUHS, please indicate their name and the year of graduation, if known. This year we have added a place where students can add their contact information so they can keep in touch with other alumni in their area or profession after they leave MUHS. If you have any questions, please contact Mrs. Christie Odenwald at odenwald@muhs.edu.
New Items added to the Topper Shop
The 2022-23 Topper Shop features a wide variety of officially branded Hilltopper gear, with new items recently being added. All future orders from the Topper Shop will be available for pickup in the main office each Tuesday after 1 p.m., and home delivery is also an option. Questions can be directed to Jake Cosson at jake@bsg1881.com.
Drop-in Spanish Tutoring Available After School
Drop-in Spanish tutoring is available for all Spanish 1 and 2 students after school on Tuesdays, Wednesdays and Thursdays until 4 p.m. in the Doerr Library. Sociedad Honoraria Hispánica students are eager to help students be their best in Spanish. Drop in for help with homework, to practice or to learn some good study skills. No appointment is necessary.
Kairos 142 Registration
The Kairos retreat program is a special "Time of the Lord," a four-day experience of prayer and reflection run by a team of adults and students. Registration is now open to the Class of 2023 for Kairos 142 (November 7-10). Information will be emailed to seniors, including links to access the registration form. The registration deadline is Monday, Oct. 17 - space is limited. You can turn in the completed registration form with a check to the Campus Ministry Center. Any questions can be directed to Mr. Lese or Mrs. Reuchlen.
ACT Test Prep for Juniors to be held at MUHS
Wisconsin Test Prep, a local ACT test preparation company, will offer a prep course at Marquette High from Jan. 17 through Feb. 25. The prep classes take place on Tuesdays from 6 p.m. - 8 p.m. at MUHS and a practice test on Feb. 25 from 8 a.m. - 11:30 a.m. at MUHS. The cost is $175. Visit http://www.wisconsintestprep.com/index.htm to fill out the registration form and submit payment. Space is limited.
Aurora Student and Family Assistance Program (SFAP)
The Aurora Student and Family Assistance Program (SFAP) is a free, confidential service available to MUHS students and their families. They have assisted MUHS students and families with a variety of concerns including academic pressure, alcohol/drug issues, anxiety and depression, family issues, divorce/blended families, relationship issues, and stress management. If you'd like to access free and confidential additional resources and support, click here to visit AAH SFAP's website or call (800) 236-3231. Two resources to review:
Student Behavior Change Coaching - The SFAP clinical team can tailor the content to meet the needs of the student and family's unique situation. Sessions provide education, handouts, and homework and are intended to help increase a student's success at school and at home.
From College Counseling
SENIOR PARENTS:
Our Day with the Senior Class: The College Counseling Team enjoyed a full day of meeting with seniors during their math class release on Wednesday, Sept. 28. During our time with each group, we reviewed key college application deadlines, college application tools in Scoir, CommonApp FAQs, transcript and letter of recommendation requests, and tackled their great questions. Now is a great time to set those "college family meetings" that we encouraged at our August Senior College Night program. These once-a-week family meetings can offer time to review progress on college applications, set expectations for completion/next steps, and make a list of questions that come up. Encourage your senior to reach out and schedule a meeting with his College Counselor for in-depth conversations about his college list and application timeline, essay progress, ACT/SAT/test-optional review, etc. Also encourage him to utilize our popular Thursday Senior Drop-In Day for those quick 5-10 minute questions. Let's keep the college application process moving forward!

The College Financial Aid Application (FAFSA) for Fall 2023 opens Oct. 1: Please see note in next section about our upcoming Oct. 5 MUHS/DSHA College Financial Aid information program – we hope to see you there. But here are a few tips for our Class of 2023 parents/students on how to prepare for completing the Free Application for Federal Student Aid (FAFSA)

Create an FSA ID: Create your FAFSA account/FSA ID here (use the Start Here button). The student and at least one parent must create an FSA ID to complete the FAFSA. An FSA ID gives you access to Federal Student Aid's online systems and will serve as your FAFSA electronic signature.

File the FAFSA early: The 2023-24 FAFSA opens on Oct. 1 for fall 2023 college entry. We echo the same advice colleges offer - file your FAFSA early! Most senior families submit the FAFSA in the fall months often before the student applies for admission and hears about admission to a college. Having your completed FAFSA on file early with each college means that the college can be ready to provide a financial aid award following your student's admission notification. Your student's prospective colleges may have their own unique priority FAFSA filing date so please check these dates on each college website. For quick reference, here is the UW System FAFSA priority filing dates.

Use the IRS Data Retrieval Tool (DRT): The 2023-24 FAFSA will use 2021 tax information. As you complete the FAFSA, take advantage of the DRT to import your tax information directly from the IRS into the FAFSA. You will be prompted to use the DRT when entering financial information on the FAFSA.

Additional Financial Aid forms required? Some colleges may require additional financial aid forms beyond the FAFSA. The CSS Profile is the most common additional form required by a select number of colleges. Best advice: consult your student's college websites to clarify what forms they require.
JUNIOR & SENIOR PARENTS
Upcoming Early October College Programs: As has been shared over the past few weeks, early October brings a number of exciting in-person college information programs to Milwaukee, MUHS and DSHA. Please refer to the reminder email sent earlier this week that offers specific details for each of these upcoming events. We have also shared this same information with your student and sincerely hope your family considers attending one or several of these programs to help your college search.

Milwaukee National College Fair: Sunday, Oct. 2, noon - 3 p.m.

Jesuit Excellence Tour (JET) College Fair: Monday, Oct. 3, 6:30 p.m. – 8:00 p.m.

MUHS/DSHA College Financial Aid Information Night: Wednesday, Oct. 5, 6:30 p.m.
Nursing Office News
COVID Protocols
The health and safety of the community remain a high priority at Marquette University High School. These Health and Safety Protocols are meant to advise students, parents, and staff on the MUHS safety measures. Additional updates may be forthcoming as the situation evolves.

Please notify Ms. Brooks if anyone in your household has tested positive or has had an exposure to a positive person. She will give you protocols for your situation.

There will be testing available to staff and students only this year.
Need a COVID Test?
Create an account at https://covidconnect2.wi.gov/.

Create an account for your son.

Wear a mask into the building.

Complete a paper questionnaire - available in the office.
Accounts are good for one year and only set up once. A questionnaire must be completed with each test. If you have any questions or concerns, email Nurse Jennifer Brooks at brooks@muhs.edu or call her at (414) 933-7220, ext. 5129.
COVID Dashboard
MUHS maintains data regarding COVID-related cases impacting students and employees. Below is a dashboard providing updated information. The school provides regular updates and information to parents.
Don't miss out.
A complete list of news and events
can be found on the parent portal.
SCHEDULE HIGHLIGHTS

October 1

Homecoming Dance

October 7

No Classes - Professional Day

October 10, 11 & 13

Quarter Exams

October 12

PSAT Testing - Grades 10 & 11
Freshman Cup - Grades 9 & 12

October 14

No Classes - Grading Day
MARQUETTE UNIVERSITY HIGH SCHOOL
3401 W. Wisconsin Avenue • Milwaukee, WI 53208
(414) 933-7220
Unsubscribe from this eNotice.